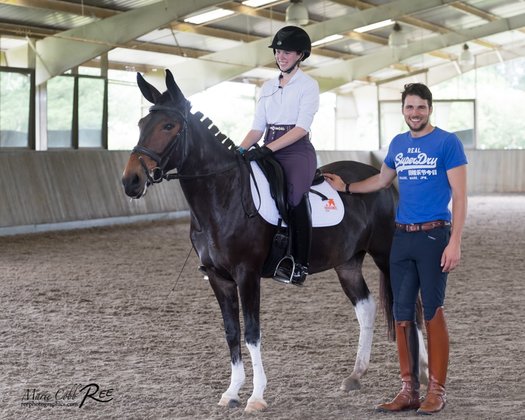 What a pretty trio. Our mule, Isabella Rodwig and Charlie Hutton at his recent clinic visit from the UK. Slate was a special surprise for Charlie. Of course he was a star!
Home
Busch Sporthorses LLC (located just one hour north of New Orleans in Folsom, Louisiana) was created as a result of Vicky Busch's ever growing involvement in training, teaching and breeding for Dressage. An FEI/Grand Prix rider, trainer and competitor, Vicky has always had a passion for education as well a desire to share her vast experience and knowledge. Her lifetime love of horses is the motivator behind it all. "I'm interested in so many things in this world, so it's only reasonable for me to be interested in a number of avenues in the horse world. Because of this, our business has become diverse. My goal is to keep the various aspects balanced, thereby providing our customers with a very high quality product; whether that be a riding lesson, a body work session, a happy well trained horse or perhaps a new horse."

Officially launched by Eric and Vicky Busch in the Spring of 2007, Busch Sporthorses LLC became the vehicle for a major expansion of the farm which they had long outgrown. A fondness for their existing home and grounds (Vicky's beloved gardens in particular) in beautiful Folsom, Louisiana, led the Busch's to clear the land they owned behind the farm, rather than move to another site. This began in April 2007.

By mid summer of '07 the property was cleared, graded, seeded and fenced. Three new paddocks to accommodate more training horses (bringing the paddock total to seven) and two pastures for breed stock were added. A second barn was built that includes a foaling suite, breeding stocks and three additional stalls, bringing the grand total to eight. The once six acre farm had grown to a still manageable thirteen acres.

Construction continued through the spring and summer of 2008 as automatic pasture waterers and run-ins were completed. In July 2009, our long awaited covered arena was also completed. In February 2012, we purchased the neighbors property adding 5 more acres, a gorgeous pond and a caretaker house, bringing the farm to 17.5 acres. Then in 2015 we added mirrors!! What a training treat. In 2016 we really went uptown and installed fans. We are now ready for what has become truly oppressive summers.